Are you tired of searching high and low for the perfect mini alcohol bottles to come up empty-handed every time? Have you ever been stuck at a party with boring drinks because you didn't bring your favorite spirits?
It's frustrating to want something so badly only to have trouble finding it. And let's face it, standard-sized bottles can be too much to handle, especially if you're just looking to try out a new drink or carry a beverage on the go.
The hassle of searching for the right size and shape of mini alcohol bottles can put a damper on your plans, leaving you feeling disappointed and empty-handed.
Search no further than our thorough list of the top retailers for buying mini alcohol bottles! We have investigated and combed the internet to bring you this information.
We bring you the top retailers and glass bottle manufacturers that offer the best variety and quality of mini alcohol bottles. You can indulge in your preferred libations whenever you want, anywhere, with our assistance.
Benefits:
Mini alcohol bottles provide several benefits. These are convenient, portable, and affordable. They are easy to carry while traveling or for a night out, and they allow individuals to enjoy their favorite drinks without committing to a full-sized bottle. Mini bottles also reduce waste and are great for sampling different types of alcohol.
Introduction: Where to Buy Mini Alcohol Bottles?
These mini liquor bottles come in a variety of sizes and forms. They come in a range of flavours as well. Some of the more popular types include bourbon, whiskey, and tequila.
Most of these mini bottles of alcohol are available online. Whether you're looking for a variety pack of mini bottles or just a few specific types of liquor, plenty of options are available. Some great places to start your search include online retailers such as
Amazon
AliExpress
Alibaba
Shopee
You're bound to discover the ideal mini alcohol bottles to meet your needs with all the options available.
Mini alcohol bottles are a great way to try out new drinks, sample different flavors, or bring along your favorite spirits on the go.
These little bottles of alcohol come in various sizes and shapes, making them perfect for travel, parties, or even as gifts.
There are Many places online where you can locate small liquor bottles if you'd like to buy them. Buying mini liquor bottles on these sites can be an excellent way to save money while still getting a quality product.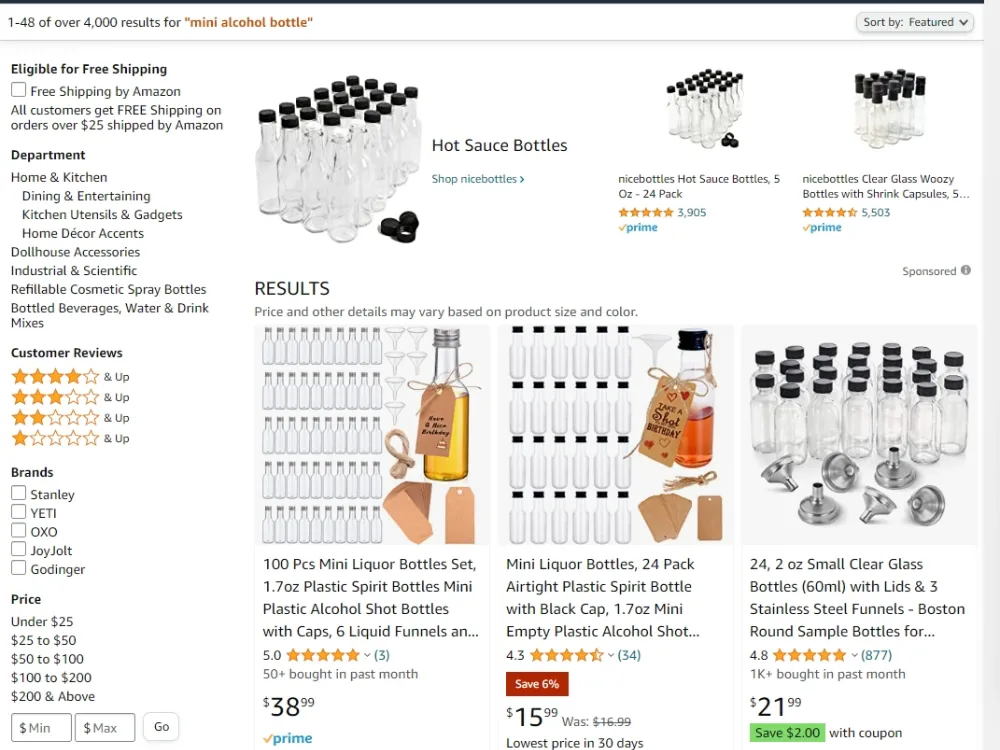 Amazon
Amazon is one of the best places to buy mini alcohol bottles because they offer discounts and free shipping. Additionally, they offer an enormous variety of products. This makes it simple to locate the ideal little bottles of alcohol for your requirements.
Amazon purchases are a fantastic method to support owners of small enterprises. The site alerts you when buying from a small business so that you can support them.
The company has a wide selection of mini alcohol bottles, including brands like Jack Daniel's, Glenfiddich, Smirnoff, Malibu, and Jameson. These small alcohol bottles are ideal for weddings and other special events.
They can also be a wonderful present for loved ones. In addition, they can be personalized with labels and monograms. They are therefore a well-liked option for wedding gifts. Shop the mini alcohol bottles on Amazon today to find your perfect bottle!
With a vast selection of small alcohol bottles, you're sure to find what you need. So whether you're planning a party or looking for a convenient way to stock up on your favorite spirits, Amazon has covered you.
Another advantage of shopping on Amazon is the ability to buy mini alcohol bottles in bulk. This can be a great option if you are planning a party or event and need to purchase a large number of mini bottles of alcohol. Bulk orders frequently come with discounts, that can save you cash.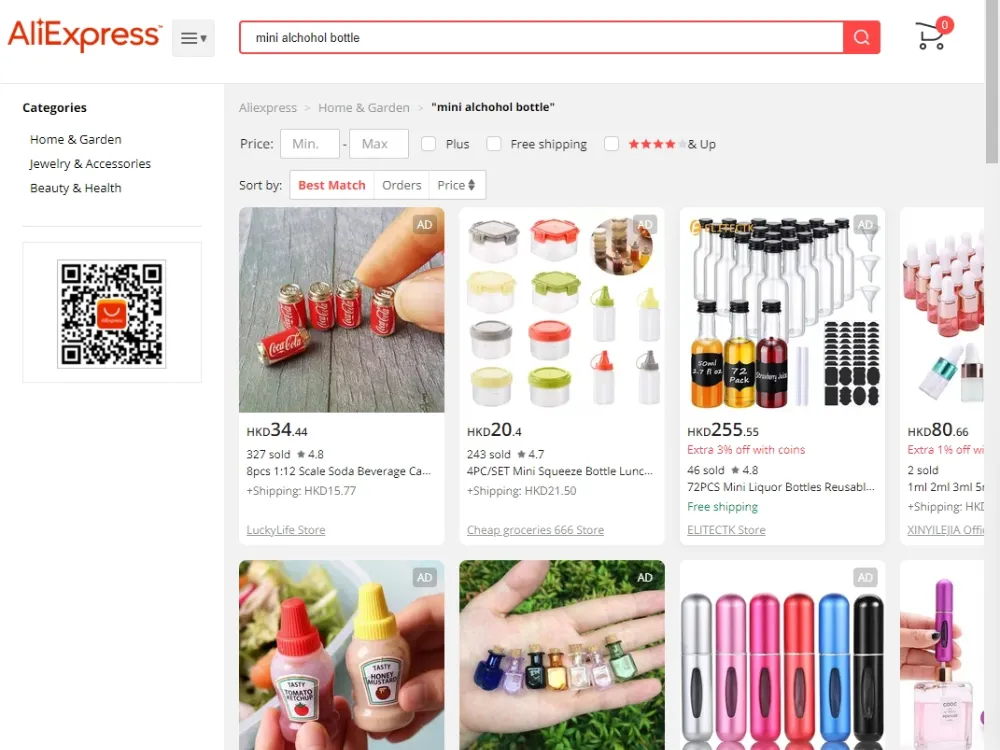 AliExpress
Want an easy way to buy alcohol bottles online? AliExpress may be a great option. It has a huge selection of goods at affordable rates as well as regular sales and discounts.
You can use this site to buy a bottle of your favorite brand or to make a purchase for someone. It is the cheapest place to buy mini liquor bottles.
AliExpress has an extensive selection of alcoholic beverages, from regular tipples to exotic drinks you might have enjoyed on holiday, and liqueurs in all shapes and sizes.
It also offers home delivery, which is perfect if you're a drinking fan and wants to save time on going out and shopping. The website also features many branded products, so you'll find something suitable to your taste and budget.
And with an AliExpress voucher code, you can stock up on little alcohol bottles without breaking the bank!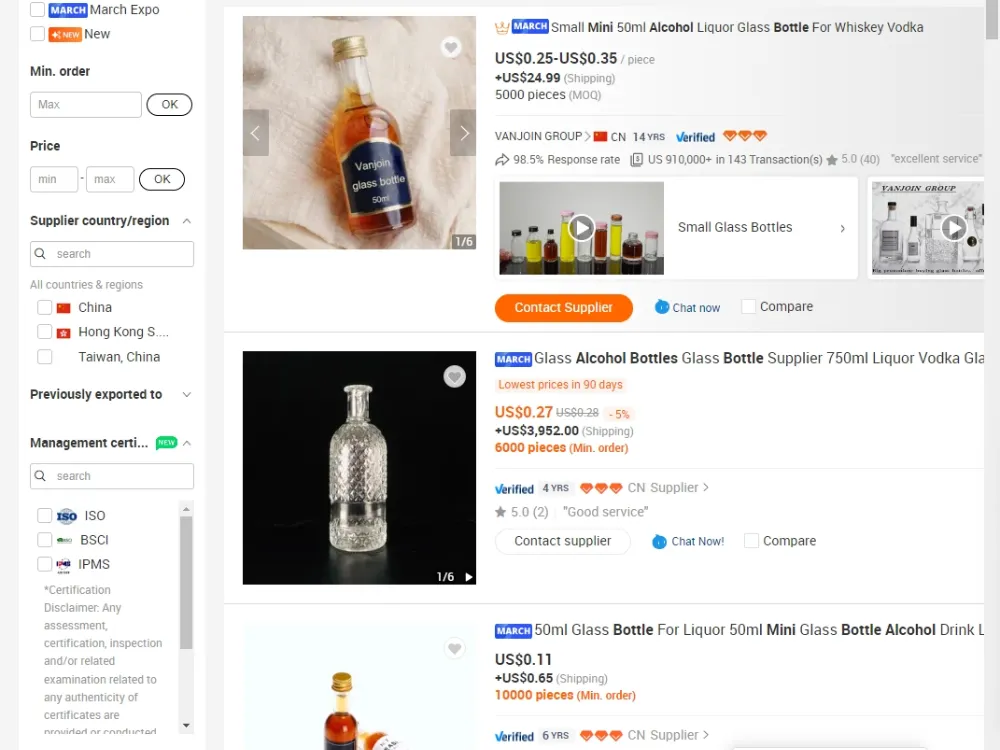 Alibaba
One of the best ways to source mini alcohol bottles is to use Alibaba. It is a Chinese wholesale marketplace that connects manufacturers with potential buyers worldwide.
The swanky new e-commerce platform offers cool features like free order protection services and Trade Assurance. However, the best way to ensure you're using the right supplier is to look for verified vendors (Gold suppliers) and ones that support trade assurance.
Using these services will mitigate the risk of getting scammed and result in huge savings for your business. First, however, do your research and read reviews before placing your order.
Alibaba makes it easy to shop for and purchase these products, with clear descriptions and images to help you make an informed decision. Plus, with the ability to purchase in bulk, you can stock up on mini alcohol bottles for future events as well.
You can choose the ideal choice for your desires from a broad selection of mini vodka bottles and other types of mini alcohol bottles.
Shopee
With a wide selection of mini wine bottles and other small alcohol options, Shopee makes it easy to find what you want.
Whether planning a party or just wanting to enjoy a small glass of your favorite beverage, Shopee has got you covered. Plus, you can confidently purchase with their user-friendly interface and reliable shipping.
Shopee is a popular online marketplace that offers a variety of products, including mini alcohol bottles. While the selection on Shopee may not be as extensive as on Amazon or AliExpress, it's still a great option if you're looking to buy mini liquor bottles online.
You can find all kinds of liquor like whiskey, beer, rum, and wine on the Shopee platform, and all you have to do is order one to get it delivered to your doorstep.
Where to Find Glass Bottle Manufacturers?
When it comes to packaging your products, glass bottles are a great way to protect them and give them an attractive look. They are a wise option for businesses that care about the environment because they are completely recyclable and reusable.
Whether you are looking for single mini alcohol bottles or mini liquor bottles in bulk, there are many manufacturers to choose from. You can pick from a range of shapes and sizes from these makers.
Some manufacturers are based in China and offer a wide range of glass jars and containers. They can also customize their glass products to meet your exact specifications.
When choosing a manufacturer, there are many things to take into account, from cost to quality control.
One great place to start your search is online.
With a quick Google search, you can find various manufacturers specializing in glass bottles of all shapes and sizes.
Don't be afraid to contact several manufacturers and compare quotes and offerings.
With some research and due diligence, you'll be able to find a reputable manufacturer that meets your needs and helps your business thrive.
You can choose from a huge variety of various color combinations thanks to Ruisheng glass bottle manufacturers. They can also provide custom embossing, printing, and sandblasting services to give your glass bottle a personalized touch.
Conclusion
Mini bottles are a great way to add extra spice to your favorite cocktail. Whether you want to stock up on booze for your home bar or give a few as gifts, there are several places you can buy miniature alcohol bottles online.
These places offer a large selection of alcohol brands. It includes mini wine bottles, mini vodka bottles, mini whiskey bottles, and other alcoholic beverages.
They also provide liquor delivery services to customers living in certain areas. The company will send you a shipment of alcohol within a few hours after your order is placed.
Despite their small size, the miniature bottle has become a staple of cocktail making and partying. They're convenient and easy to use, making everything more fun.
They're perfect for gifting, samples, grab bags, and more. In addition, these platforms carry a huge selection of mini bottles of tequila, vodka, whiskey, and schnapps.