1. The advantages of glass packaging
Glass packaging offers several advantages, making it a popular choice for various products. Some of the key benefits of glass packaging include:
Preservation of Product Quality
Glass is chemical stability, it does not react with the contents. It also does not allow them to leach into the packaging. This makes it ideal for preserving food and beverages' taste, quality, and perfume. It also prevents impurities and helps products maintain their freshness.
Glass is 100% recyclable. The industry can recycle it without losing its quality or purity. Recycling glass reduces greenhouse gas emissions and source consumption. It is a friendly option for the environment.
Glass is transparent.  Consumers can see the product inside, which is important for beverages and food. Clean glass is easy to clean and disinfect. This is essential for products that need a high level of hygiene.
Glass is a durable material. It can withstand temperature changes, making it suitable for hot and cold products. It does not degrade over time and has a long shelf life.
Glass's elegant appearance makes it an attractive choice for high-end products. We often use it for luxury items like perfumes and high-quality spirits.
Glass surfaces provides a smooth base for labeling, branding, and product information. It enhances the marketability and visual appeal of products.
2. Why do we choose glass bottle manufacturers in Canada
Canada has several advantages in glass bottle production. It has abundant high-quality raw materials such as sand, silica, and limestone. These materials are essential for glass manufacturing. What's more, Canada has a stable and reliable energy supply and advanced production technology. These make glass production efficient and cost-effective. Canada has rich experience and a long history in glass bottle production. And there are many trusted glass bottle suppliers.
But there are so many glass bottle manufacturers in Canada. Who are the best, and which one is fit for you? This article will show the best 10 glass bottle manufacturers in Canada. It will also provide an introduction of their capabilities and distinguishing characteristics.
3. The best 10 glass bottle manufacturers in Canada
1) O-I Glass Inc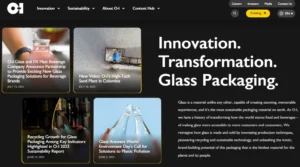 O-I Glass Inc., also known as O-I. The company started operation in the United States in 2001 and has a long history. Then, the business continues to grow. The company has gained a high reputation in the global glass bottle manufacturing industry. O-I is the preferred partner for many of the world's leading brands. And it produces a huge number of glass bottles all over the world. This company has subsidiaries in many countries, including Canada. It mainly produces glass bottles for beverages, food, and pharmaceuticals. The glass bottle factory produces containers for the cosmetics, perfume, and pharmaceutical industries. Additionally, it supplies bottles for wine and beer brewing.
O-I Glass Inc. produces a wide range of glass bottles focusing on innovation to meet diverse market needs. The company has been a leader in glass bottle production and innovation.
2) Pegasus Glass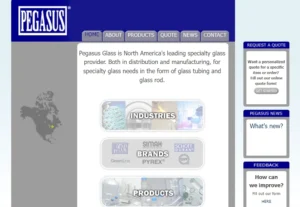 Pegasus Glass Company, located in Canada, stands for high-quality glass containers. The Trent brothers founded the company in 1968. First, this was a chemical company. But, after acquiring Corning Glassworks, it became focused on glass manufacturing. From then, the company has continued to grow. And its glass manufacturing industry has continued to develop.
The company produces various glass bottles. Laboratories and other places often use its products. Pegasus Glass focuses on the development of durable, high-quality glass containers. Pegasus is particularly popular for its production of borosilicate glass bottles. This kind of glass bottle is more heat-resistant than ordinary glass bottles in Canada. Pegasus Glass makes glass bottles in a variety of shapes and sizes. We can use these bottles to hold a variety of food and beverages. It's also resistant to exposure to harsh chemicals and lasts longer than other glass bottles on the market.
3) Ruisheng glass bottles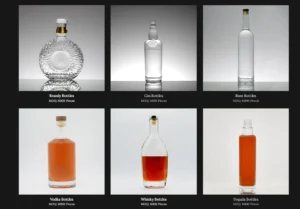 Ruisheng Glass Bottles began operations in 2009. The company is a custom glass bottle manufacturer in China. The company also has its sales chain in Canada. Ruisheng has become one of the leaders in the world glass bottle market. All this is due to its mature production chain and advanced machinery. The company has a highly skilled production team, and its daily output of glass bottles is very large. It has rich production experience and a high reputation in glass bottle manufacturers in Canada.
The company works hard to ensure its products follow relevant standards and requirements. Every production step is serious in this company. These steps speed up the delivery process and shorten turnaround times. This is a mature glass bottle maker.
If you need glass bottles for whiskey, vodka, brandy, etc., contact Ruisheng. Want to know more about Ruisheng? Click here.
4) Roy+LeClair
Based in Quebec, Roy+LeClair was a family-owned plastic bottle manufacturing company at first. Now, it has become a major role in glass bottle manufacture. The company's customers are mainly food and drink companies and pharmaceutical companies. So, the company has stricter inspection standards for glass containers in Canada.
The company has complete equipment for high production flexibility. Their factories can be a good choice if you need thousands or even millions of glass bottles. The company also offers sales and assembly services. Their experts help customers find the product that best suits their needs.
5) Ampak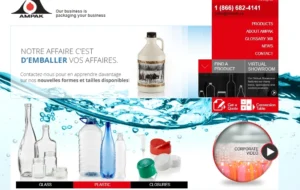 Ampak has over 60 years of experience in glass bottle manufacturing. The company produces a wide range of glass containers required by various industries. These glass bottles in Canada include food, pharmaceutical, and industrial. Ampak has more than 1,000 molds used to produce custom glass containers of all shapes and sizes. The company has a highly qualified work team. The team tries its best to satisfy all the packaging demands of the customers. Ampak also provides services such as labeling and printing. These services provide you with many options for your exquisite packaging. Besides, Ampak has a strong distribution network. The network ensures the company's glass products can appear throughout the country and other regions.
6) Spanpac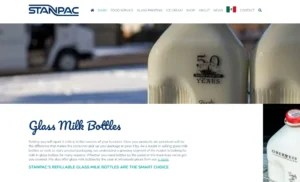 Spanpac produces and supplies different types of dairy and glass bottle packaging materials. Stanpac began providing caps for glass milk bottles as early as the 1940s. Now, the company continues to expand its production scale. These production lines produce food, ice cream, and alcohol packaging. Stanpac also provides new products and innovations for the food and drink packaging market.
Stanpac's most famous glass product is a glass milk bottle with tamper-evident caps. This company constantly introduces new products meet the ever-changing market needs. With 7 patents in over 20 countries, Stanpac is an innovative business. This company is customer-centric and promotes sales of its clients' brands.
7) Saxco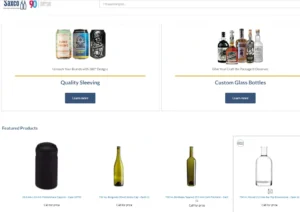 Established in Canada in 2000, Saxco provides distinctive packaging for the wine, beer, liquor, and food industries. Saxco has a large inventory, the price is equal, and the delivery is fast. The company has a world-class global manufacturer network and ultra-high quality levels. The company has the smallest order quantities and ships at any time.
8) TricorBraun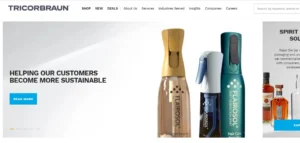 With a century-old history, TricorBraun is the undisputed leader in the packaging industry. TricorBraun developed the online platform TricorBraun Canada in July 2021. This platform is an online wholesale marketplace. It provides you with the needed bottles, jars, containers, and lids. The company offers innovative, customized solutions to different industries. These industries include food, beverage, industrial, household, health, and beauty. TricoBraun offers great flexibility and no smallest buy quantities for in-stock items. The company has a large warehouse. It can complete customer orders and deliver them quickly.
9) Consolidated Bottle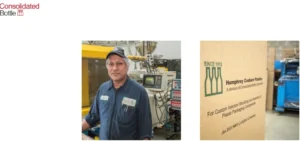 Located in Montreal and Toronto, Consolidated Bottle has more than 100 years of history. The company provides packaging solutions to various industry markets around the world. Their product range includes glass, rigid plastics, flexible packaging, and metals. These products meet the diverse needs of customers with shapes, sizes, and colors. Consolidated Bottle has a nice infrastructure and meets the highest national industry standards. The company's inventory and full-service model can match companies of all sizes. The company also offers warehousing and logistics services to its customers. Customers can import or export their products around the world.
10) Encore Glass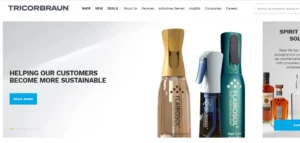 Encore Glass is a Canadian glass bottle manufacturer. Established in 1984, it has about 35 years of experience in the industry. They are famous for producing high-quality glass containers for various sectors. These sectors include food, beverage, spirits, and pharmaceuticals. The company offers a range of glass bottle designs, sizes, and shapes to meet diverse packaging needs. They devote themselves to sustainability and environmental practices.
Encore Glass stresses customer satisfaction. They have close cooperation with customers, provide standardized packaging solutions. Encore Glass emphasizes product innovation and quality control. They ensure to provide the best packaging options. The company pursues product quality, reliability, and environmental responsibility. Encore Glass has become a respected name in the Canadian glass container industry. Many companies that choose glass packaging choose this company's products.
4. Which is the best among these glass bottle manufacturers in Canada
Do you want to know the "best" among the top 10 glass manufacturers in Canada? It depends on your specific needs. Your needs can include the type of glass containers and the volume of production. You can also consider quality standards and any other unique requirements. Each of the above manufacturers has its advantages. And they may cater to different markets or industries.
To determine which manufacturer best suits your needs, consider the following factors:
Type of Glass Container
Quality and Certification
Customization
Production Capacity
Location and Logistics
Sustainability
Price
You'd better contact manufacturers on the list, discuss your requirements, and get a reply. You can also request samples to assess product quality. In the end, you'll find the manufacturer that best fits your needs and goals.
5. The advantages of glass bottle manufacturers in Canada
Glass manufacturers in Canada, like glass manufacturers in many other countries, offer several advantages. These advantages can be beneficial to businesses and consumers. Some of the benefits of glass manufacturers in Canada include:
High Quality Standards
Canadian glass manufacturers adhere to high quality standards and regulations. Glass containers in Canada comply with international quality standards.
Innovation and Technology
Custom glass bottle manufacturers in Canada invest in high technology and innovation. They produce glass products that fit with modern design and sustainability trends.
Environmental Responsibility
Custom glass bottles in Canada generally focus on environmental protection and sustainability.
Customization
Many Canadian glass manufacturers offer customization options. Companies can design and produce unique glass containers based on their specific needs.
Reliable supply chain
Canada has strong infrastructure and supply chain networks. This makes it a reliable source for glass products. At the same time, this also ensures a stable supply for the company.
Safety and Quality
Canadian glass bottle suppliers generally focus on safety and quality control. This is critical for industries such as pharmaceuticals and food packaging.
The advantages of glass bottle manufacturers in Canada can vary among companies. So, businesses should choose a manufacturer that meets their specific needs and priorities.